Den 10. oktober 2022 blev submission call for LAINE 17 åbnet.
De skrev følgende i deres brief:
We are looking for modern, stylish garments and accessories that celebrate the abundance and lightness of summer through textures, fibres and colours.
As always, we are looking to feature a variety of techniques, constructions, textures and yarn weights. We also want you – as a designer – to bring your personality into the design and tell a story through stitches.
Det var første gang jeg valgte at kaste mig ud i en submission call som denne. Havde ingen idé om hvordan man gør eller hvad kravene var. Men jeg lod den kreative proces tage over i stedet for at tænke for meget over det praktiske.
Jeg fandt frem til et mønster jeg havde fundet på YouTube og brugte mange timer på at gense hver sekvens indtil jeg havde forstået mønsteret.
Fik konverteret det til et diagram og var vild med udtrykket da jeg lavede strikkeprøven. Jeg valgte Double Sunday fra Sandnes garn og nu lå den strikkeprøve på mit bord.
Hvad så herfra?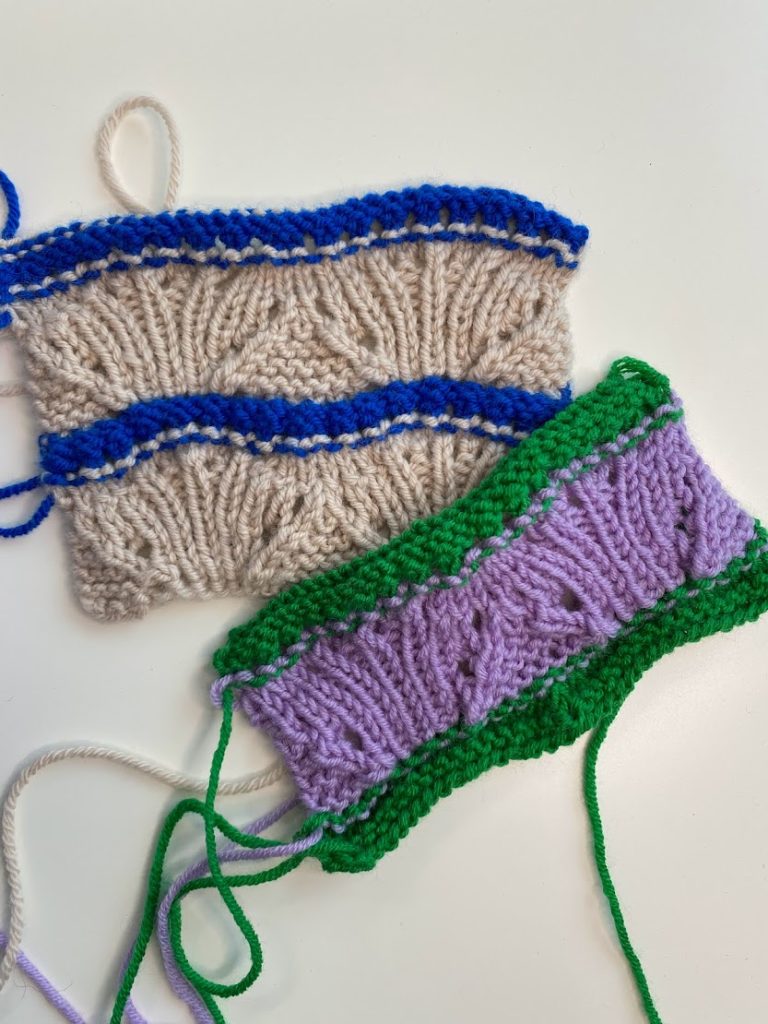 Jeg skulle præsentere min idé ved at skitse designet med mønsteret og fik tegnet denne skitse…
Men der skulle skrives og fortælles om min ide….hvordan gør man det uden at sende strikkeprøven?
Jeg fik startet mit InDesign program op og prøvede på bedste vis at vise og beskrive mit design forslag.
Her forsiden:
Og designet fik denne forklaring:
Jeg var sammen med 2 af mine bedste veninder den fredag aften hvor jeg fik mailen fra LAINE. At de gerne vil bruge mit design!
Måske lyder det mærkeligt – men jeg rystede over hele kroppen af glæde og havde svært ved at forstå det. For det var faktisk én af mine drømme. At få lov at have et design i LAINE magasinet.
Herfra startede processen med at strikke den op for første gang og få lavet opskriften. LAINE havde valgt de skønneste farver; col 4626 og col 3819.
Jeg måtte ikke vise noget undervejs (hvilket er rigtig svært når man strikker på noget man bliver helt glad i låget af).
Og sådan var det også da jeg nåede til fasen hvor jeg skulle have den teststrikket. Jeg skulle finde teststrikkere der ville teststrikke i hemmelighed og Sandnes sponserede garnet til dem.
Lang ventetid. Men en skøn proces med LAINE hvor opskriften skulle gøres klar til print.
Og nu er dagen endelig kommet! Dagen hvor LAINE 17 bliver offentliggjort og sat til salg.
Mit hjerte slå et ekstra slag da jeg fik mailen med coveret fra LAINE…hvor mit design bliver vist frem.
Det smukkeste foto der taler sit eget sprog (synes jeg)…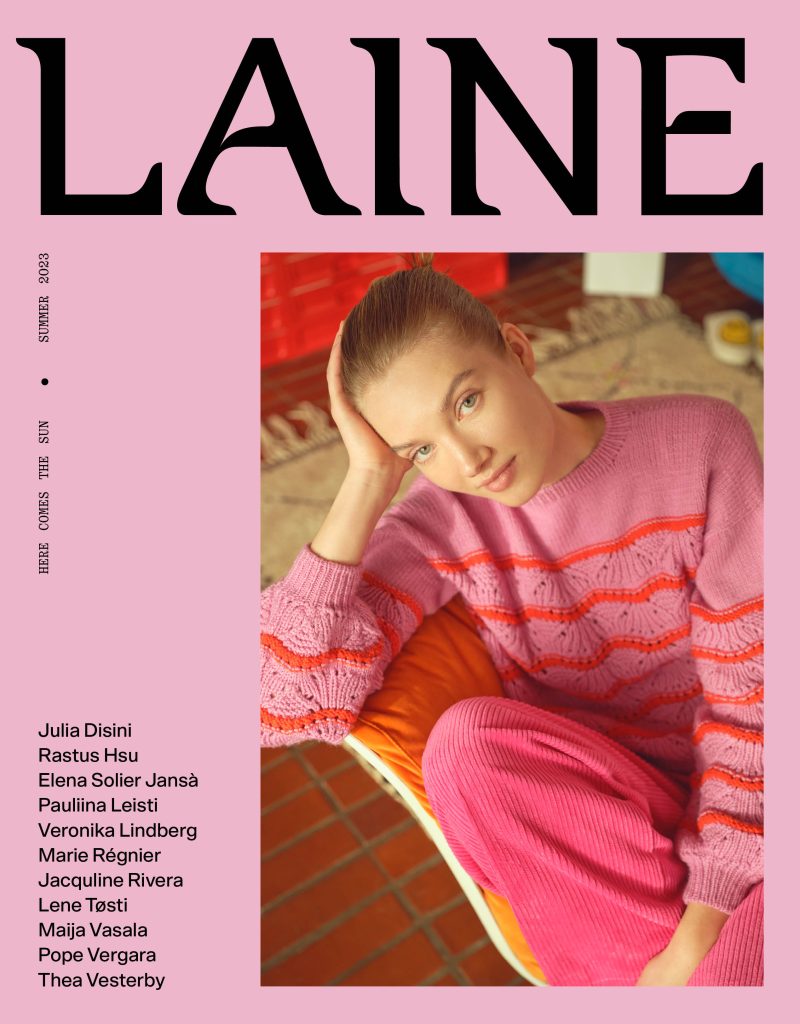 Kredit:
photos Riikka Kantinkoski
styling Anna Komonen (@annakomonen)
MUAH Miika Kemppainen (@miikakemppainen)
model Enni Naakka (@enninaakka) / Brand Model Management (@brandmgmt)
The official publication day is Friday, May 5, 2023.
Preorders start Thursday, April 6 at lainepublishing.com